Multi Media Player for Entertainment Systems
The Multi Media Player (MMP) represents a standalone device for playing video and multichannel audio for entertainment or information purposes in busses, coaches, trains, boats etc.
Multimedia material from all kinds of file formats is played by an harddisk based video player with internal removable SATA 2,5" HDD of unlimited size.
Additionally multichannel audio in MP3 file format is played by individual modules from standard low cost micro SD cards.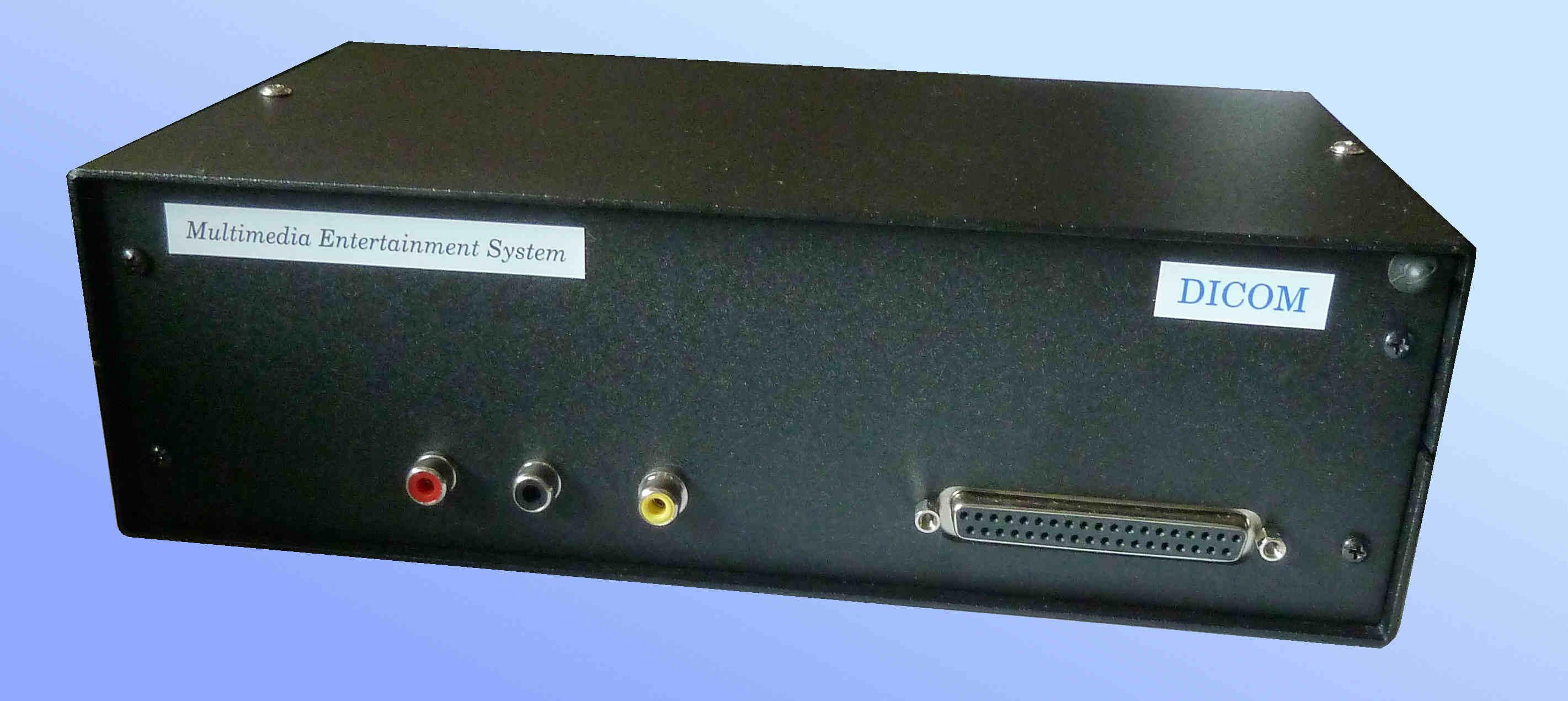 MMP Main Features
Very stable and reliable hardware based operation
Plays movies, photos and music of standard file formats
Very easy to use with just 4 dedicated pushbuttons to navigate
Control buttons can be incorporated into dashboard, no IR remote control required
Safe to be controlled by driver himself
No confusing menus and options
Driver's monitor screen only used for selecting files, screen switched off while movie is running to increase road safety
USB interface to connect external USB storage devices to play back movies, music or photos
External analog AV input to connect smartphones or cameras
Multiple parallel AV outputs to connect several TV monitors directly
Analog Composite AV Output (NTSC/PAL) with multiple outputs or HDMI 1.3 (single output)
Operates from 9..36 VDC / 10W
Compact steel/aluminium enclosure 250x150x75mm ca. 2kg
Video Player Specifications
Video Decoding: H.263, H.264, VC-1, MPEG1/2/4, XVID, WMV
Audio Decoding: DTS, AC3, FLAC, AAC
HD Video: VC-1(WMV9-HD), H.264, MPEG2-HD (1920x1080p)
Video Formats: RM/RMVB-HD, MKV, AVI, TS-TP, M2TS, MOV, VOB, RM/RMVB, FLV, WMV
Audio Formats: MP3, WMA, OGG, AAC, ATRA
Photo Formats: JPEG, GIF, PNG, BMP, can slide play with music
HDD File Format: FAT32/NTFS
Multichannel Audio Player
The multichannel audio player block consist of individual MP3 modules incorporated in the same MMP enclosure. Its operation is independant of the video player.
Up to 8 modules can be fitted on the main board. Each module plays its content from a separate micro SD card (up to 32GB each). The modules start playing in an endless manner when power is applied. The analog stereo output from each player is available at pins of the the 37p SUB-D connector to interconnect with an on-board audio distribution system. The purpose is to provide a selection of music channels (classic, rock, jazz, etc) to an audience that prefers listening to music instead of watching a movie.
For further inquires please don't hesitate to contact us. Since we are specialized in electronic design all products can be adapted to customer requirements.
We speak English, French, German and Luxembourgish.